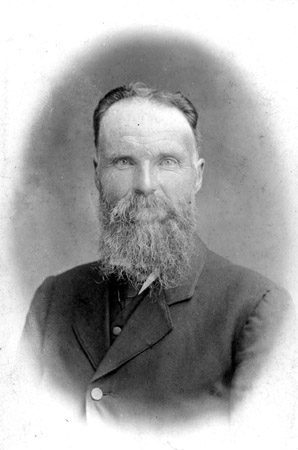 David Jones b. 4th August 1852 at Brynhynod, Llangower (the place where we saw the porch full of young cats, over Bala Lake), was the son of John & Elinor Jones (I have a note which says son of David and Elinor Jones, but I think John is correct).
David Jones of High Street, Denbigh, and Grace Williams of Rhydonen were married on 26th October 1883 in the CM Chapel, Swan Lane, Denbigh. At first they lived in Rhydonen, and later at Rhospengwern. Grace died in 1911 or 12. David Jones remarried, probably in 1915 or 1916, and moved to Fron Lwyd, Glyndyfrdwy. I also have a note that "David Jones lived at Clawdd Newydd with 2nd wife in his old age". Did he move yet again?
David and Grace Jones had six children:
Margaret (Auntie Maggie) - stayed at home and became a farmer's wife, but always knew that she could do whatever her sisters could. Used to do her grandchildren's homework for them.

married first Daniel (?) Hughes: children

Grace, married Cefni Parry, children:

Einion, married [] Austin, children:
Iola, married John Evans, son Tomos
Falmai
Dwynwen, married Josef Duda, son Stefan
Gerallt

Mary, married [] Kerfoot
Sarah (died young)

and afterwards his brother Tom Hughes (Uncle Tom Penbryn): children

Ted
Nell
Muriel (later Muriel Roberts, near Harlech)

Eleanor - became a milliner. She died of tuberculosis. Her baby Lilian also died.
Annie P (Auntie Nance), went to college, became a schoolteacher, married Claude Vivian Minton.
David Samuel b. 23rd December 1890, married Jessie Emily Morris, children:

Gwyneth, married Arnold Wexler, children:

John (b.1943), married Susan Downer, children:

Daniel Christopher (b.1973)
Thomas Leo (b.1976)

Margaret Ruth (b.1948), married Peter Ashley, children:
William David (b.1951)
Barbara Anne (b.1953), married Peter Waugh

Freda
Lloyd
Bob

William Robert
John Goronwy, b. ? 1894 and killed in France a few days before the Armistice in 1918.
After his first wife died (1911 or 1912), he remarried and lived at Fron Lwyd and then at Clawdd Newydd. He worked at Lledrod for a time and wrote about his time there and about the building of Cefn Canol Chapel. He died in 1931 or 1932.
On the back of the print, the address:
Mr Jones
Rhos Pengwern
Llangollen
Click here for a full-sized image, or here for the unretouched original scan.