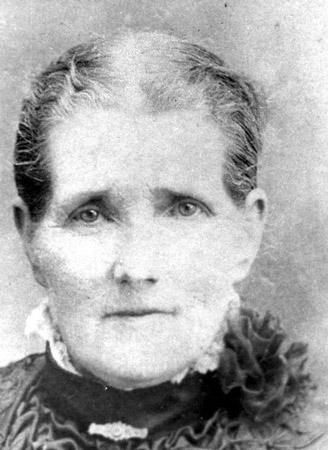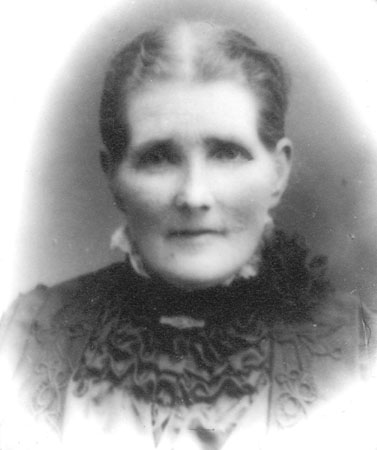 Margaret Morris (née Williams), 1845-1916. Photograph possibly around 1905.
Born 6th October 1845 at CerrigyDrudion, died 26th February 1916 at GlynCeiriog.
She was the daughter of William Williams and Mary Thomas. Mary and William were married at Llanfihangel GM on 23rd December 1843.
We have no information about William Williams.
Mary Thomas was born 1823 or later. She was the daughter of

John Thomas who was born in 1787 at Tynrhedyn, the son of Richard Thomas Fronbach, and of
Margaret Williams, who was born in 1790, the daughter of Thos. Williams Arddwyfaen.
John Thomas and Margaret Williams were married in 1811 at CerrigyDrudion.
Married Moses Morris, Wrexham, 1870
Date associated with the photograph: 7th September 1849
Click here for a full-sized image, or here for the unretouched original scan.
I (John Wexler, 1998) do not know where the original (left-hand version above) of this photograph is. The right-hand version shows a copy which Gwyneth Wexler has. It is in a rather unusual form: photographic emulsion on an opaque white glass base. The edges of the plate have been broken off, leaving a rough oval about 4x6cm, with the image in the centre. In the same form, there are photographs of Moses Morris (I also have a better copy of that picture) and an unidentified Morris son. All three pictures were probably mounted together in some frame or ornament, some time around 1910-1920.
Click here for a full-sized image of the white glass plate version, or here for the unretouched original scan, which is a 12-bit greyscale TIFF file.