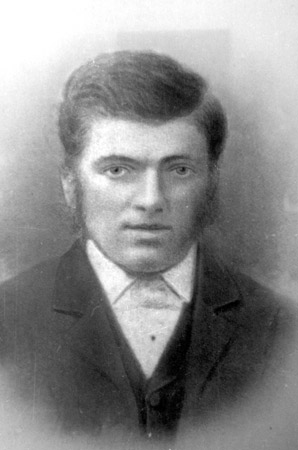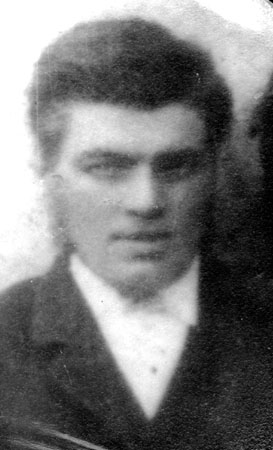 Moses Morris. Photograph possibly around 1890.
Born 26th February 1845, married Margaret Williams (Wrexham 31st October 1870), died 16th March 1895 at Glynceiriog. Buried at Rhydycroesau.
Son of Thomas Morris, of whom we have no details.
In 1879, Moses and Margaret were living at Cefn Canol (precise address uncertain). In 1881 they were at Lower Cynynion, and Moses was listed as "farmer, carpenter and wheelwright" in the census. Kelly's Directory mentions "Moses Morris Cowkeeper" at Rhosygadfa.
According to Gwyneth Wexler's notes, Moses farmed two places at the same time - "Y Gornel (The Corner) anglicised to The Gornals and according to Leslie another name for Rhosygadfa. ... Moses Morris kept two places going, here and at Hafod Gynfor."
13 children, including:
Mary Elizabeth (Mari), first daughter of Moses and Margaret.
Margaret Ann (Maggie), second daughter of Moses and Margaret: married in Glyn, died shortly after having a baby, and the baby died a few months later.
John Thomas (b.1874). Married Ruth Philips, the sister of Haydn Philips "who brought progress to Glyn and owned the garage". Lived for some time at Rhydonen and brought up his family there, and then moved to Stansty. 5 children including:

Gwen*, daughter:
Ewart, married Myfanwy*, children:

Christopher*, married Lesley*, daughter Hannah* (b.1988)
Jennie*, married Christopher Thomas*, children:

Gethin* (b.1976?)
David* (b.1979?)

Haydn (or perhaps I have got some confusion between a brother and a son of Ruth Philips)
Emrys, who had a daughter:

Pat*, married Maldwyn Williams*, daughter:

Helen Judith*, married David* [], daughters:

Rachel* (b.1984?)
Zoe* (b.1987?)

Ernest, married Rene (Irene Webber); children

Barry, married Janice; daughter:
Janet
Patrick

Jane Winifred (Auntie Jinny), third daughter of Moses and Margaret, married Uncle Joe.
Catherine Ellen (b.1879), married Evan Morris, 2 children:

Leslie, maried Betty, children:

Evan, married Janet; daughter:
Clifford
Philip, married Jean; children:
Raymond

Kathleen Margaret* (Babs), married Jim Beynon, children:

John
Sian
Ffion*, married Michael Williams*
Peter, married Rosemary
Gwynedd

William David (b.1886), 3 children including:

Phyllis, married [] Davis, daughter:

Jeanne*, married Paul Durham*

Arthur, married Blodwen*

George Moses and James Jarret, twins.
Robert Michael.
Edwin.
Jessie Emily (b.1892), married David Samuel Jones, children:

Gwyneth*, married Arnold Wexler*, children:

John* (b.1943), married Susan Downer, children:

Daniel Christopher* (b.1973)
Thomas Leo (b.1976)

Margaret Ruth (b.1948), married Peter Ashley, children:
William David* (b.1951)
Barbara Anne (b.1953), married Peter Waugh

Freda
Lloyd
Bob
All those marked with an asterisk were gathered at a family reunion in 1989.
Click here for a full-sized image, or here for the unretouched original scan.
I (John Wexler, 1998) do not know where the original (left-hand version above) of this photograph is. The right-hand version shows a copy which Gwyneth Wexler has. It is in a rather unusual form: photographic emulsion on an opaque white glass base. The edges of the plate have been broken off, leaving a rough oval about 4x6cm, with the image in the centre. In the same form, there are photographs of Margaret Morris (I also have a better copy of that picture) and an unidentified Morris son. All three pictures were probably mounted together in some frame or ornament, some time around 1910-1920.
Click here for a full-sized image of the white glass plate version, or here for the unretouched original scan, which is a 12-bit greyscale TIFF file.